Roodborstjes
Speciaal voor Gerda ( ;o) ) heb ik nog een hele kudde roodborstjes er bij geborduurd! Gisteravond ben ik verder gegaan met de kroon van de boom en wat een "takkewerk" is dat zeg ;)
On special request of Gerda I stitched a whole bunch of robins! Yesterday I continued to stitch the crown, but all those branches are terrible to stitch....
Dit moet het uiteindelijk gaan worden trouwens:
This is what it should look like in the end: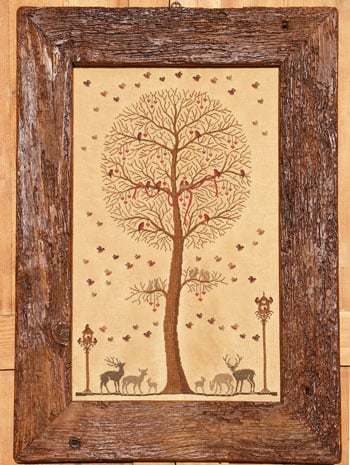 En om nog even in stijl te blijven heb ik een kleine kerstfreebee ontworpen, die iedere klant straks van mij cadeau krijgt tijdens de Kerstdag en -fair en bij alle bestellingen in de webwinkel in december. Ik moet hem nog even leuk afwerken...
This cute little Robin I designed as a Christmas freebee. Every customer will receive it, during the month December. Still have to finish it though...
Voor mijn eigen administratie wilde ik graag een telmachine met papierrol. Deze zijn natuurlijk gewoon nieuw te koop in allerlei prijsklasses... Maar bij mijn zoektocht op internet stuitte ik bij toeval op dit exemplaar op Marktplaats:
I was looking for a calculator with receipt for my administration. And of course you can easily buy one new. But while looking around on the internet I happened to find this one:
Ik heb hem vanochtend opgehaald uit Zwolle. De aardige meneer die hem verkocht, had er al een nieuw inktlint in gedaan en zelf heb ik er een nieuw rolletje bij gekocht en het werkt als een trein! Helemaal zonder stekkers of batterijen! Je vraagt je af hoe het kan, maar hij doet het perfect. Ik ben helemaal blij met m'n nieuwe "gadget" Winkeltje spelen vond ik als klein meisje al leuk :)))
This morning I picked it up. And with a new ink ribbon and receipt rol, it works like a train! Completely without plugs or batteries! I wonder how it works, but it calculates perfect. I'm completely happy with my new "gadget". Playing shop has always been my favourite :)))